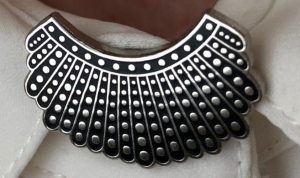 "Dissents speak to a future age." – Justice Ruth Bader Ginsburg
Long, lacy, sparkly, gilt-edged. Supreme Court Justice Ruth Bader Ginsburg has an amazing collection of jabots – or collars – that she's worn to trim her staid black robes since joining the court in 1993.
Perhaps none is as famous as the black and gold jeweled look she calls her "dissent collar." She dons it when speaking out against the majority opinion. She's done that often, countering rulings ranging from a 2013 case that rolled back part of the Voting Rights Act and opposing a majority opinion that same year that established religious rights for businesses.
For Justice Ginsburg dissent is about more than countering prevailing thought – the art of what she calls "disagreeing without being disagreeable." Each dissent the justice writes is crafted with an eye toward creating an intelligent, compelling legal argument that she hopes some day will form the basis for a majority opinion.
And that's why the attorneys of Burnette Shutt & McDaniel proudly wear dissent pins on our lapels.  Originally a gift from a dear friend when the firm opened, they've come to symbolize our mission to move law forward. Each of us is aware that the pursuit of justice often requires dissent. Just like Justice Ginsburg, we don't shy away from taking the unpopular stand if that's what's necessary to stand up for the rights of others.
As Justice Ginsburg often reminds us, the path toward change isn't always a straight line. It's sometimes a frustratingly slow and incremental journey. But it's important to stay the course. 
"I'm dejected, but only momentarily, when I can't get the fifth vote for something I think is very important. But then you go on to the next challenge and you give it your all. You know that these important issues are not going to go away. They are going to come back again and again. There''l be another time, another day." – Justice Ruth Bader Ginsburg