June 1st, 2018
---
Burnette among speakers at All in Together civic education program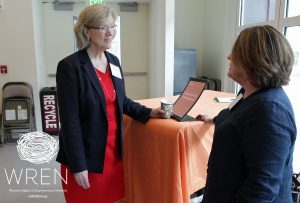 Dozens of women came together recently to devote time on a Saturday to work toward a cause: learning advocacy skills that will empower them and help them inspire others.
Burnette Shutt & McDaniel co-founder M. Malissa Burnette was among those on hand when the Gretchen Carlson Leadership Initiative came to Columbia. A South Carolina Supreme Court Certified Specialist in Employment and Labor Law, Burnette joined local political and civic leaders. They offered inspiring stories and advised attendees on how they can get involved.
The program was sponsored by All in Together. The national non-profit organization is committed to advancing women in political, civic and professional leadership through the United States. Thanks to a grant from the Gretchen Carlson Institute, AIT has created a year-long series of workshops, discussion groups and educational sessions in communities across the country. The Women's Rights and Empowerment Network (WREN) was a local partner for the Columbia program.
Advocacy training for women
The leadership institute aims to help under-served women develop civic leadership and advocacy skills. The focus is on empowering women who have faced gender-based violence, discrimination or harassment.
The day-long session was only a start. Burnette will continue to work with attendees, volunteering her time to field questions they might have about workplace sexual harassment. The organization also plans to continue the conversation online.