January 30th, 2020
---
Burnette receives Pro Bono Award from the SC Bar Association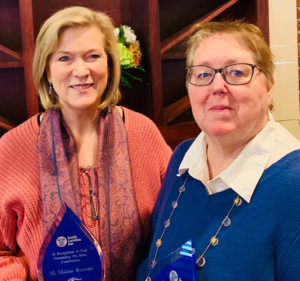 In recognition of a long track record of donating her legal services to help others, M. Malissa Burnette was honored with the South Carolina Bar Senior Lawyers Division Pro Bono Award during the organization's annual convention.
A co-founder of Burnette Shutt & McDaniel in Columbia, Burnette is a South Carolina Supreme Court Certified Specialist in Employment and Labor Law. During her 43-year career, Burnette has represented clients for free in a wide variety of cases, from precedent-setting lawsuits to helping  individuals with a wide variety of workplace and civil rights issues.
"Even before we were law partners, Malissa was an inspiration," firm co-founder Nekki Shutt said. "I've always admired her immense talents and skills, along with her willingness to share them so freely to help those in need of a highly skilled and deeply dedicated advocate."
Willing to stand up for others
Burnette has litigated more than 20 pro bono cases during her career, including the landmark case that paved the way for marriage equality in South Carolina. She and Shutt were lead counsel in the federal lawsuit. When they were awarded attorney fees, they donated the money to SC Equality.
Burnette has helped hundreds of individuals in other pro bono cases, often standing up for the rights of women, minorities and the LGBTQIA community. She's represented clients in civil rights, employment discrimination, wage disputes and family law cases.
Burnette also helps people she's never met, regularly responding to questions posted online at the American Bar Association's Free Legal Answers web site.
She's committed to instilling a spirit of service in the next generation of attorneys. Through her volunteer work with mentoring programs through the South Carolina Bar and the University of South Carolina School of Law, she emphasizes pro bono work as an important part of the practice of law.
Additionally, Burnette has co-authored and edited every edition of the "Labor and Employment Law for South Carolina Lawyers." She wrote the course book for the Bar's employment law program for its Law School for Non-Lawyers and has occasionally taught the class as well.