February 26th, 2019
---
Burnette to discuss "Second Wave of the Women's Movement in SC"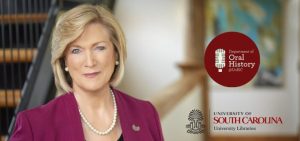 Burnette Shutt & McDaniel co-founder M. Malissa Burnette will be the keynote speaker next week for the launch of "Second Wave of the Women's Movement in SC".
The project is a partnership among the Oral History Department of the University of South Carolina Libraries, the Women's and Gender Studies Program at USC and the WGST Partnership Council. The program begins at 5 p.m. March 5.
During the event, Burnette and others will talk about the initiative to share overlooked and unrecorded stories of women's challenges and successes in bringing change to South Carolina culture, government, politics, education, health care and much more. They'll share their own stories as well.
Burnette is a leader in both the legal profession and in cases that have advanced the cause of women's rights. She was part of the team that won the landmark case paving the way for women to attend state-supported military academies. She also won the federal court case that set the precedent for girls to play contact sports in public schools in the state.
She's served the public in numerous ways over the years, in positions ranging from chairing the SC Bar's Judicial Qualifications Committee to the Board of Directors of South Carolina Equality. She also chaired the Governor's Domestic Violence Task Force. She was chief of staff for South Carolina Lt. Gov. Nancy Stevenson, the first woman elected to statewide office in South Carolina.
Honors for leadership
Numerous organizations have honored Burnette for her work and leadership. In April she and two others will receive the 2019 Platinum Compleat Lawyer Award by the USC School of Law. The honor goes to lawyers exemplifying the highest standards of professional competence, ethics and integrity.
In 2018, the Women's Rights and Empowerment Network (WREN) recognized her and nine other trailblazers during an International Women's Day Luncheon.
She's also received the South Carolina Women Lawyers Association Jean Galloway Bissell Award, the organization's top honor. It goes annually to an attorney who has demonstrated distinguished service to the profession and helped pave the way for the success of other female lawyers.
An attorney for 42 years and a Certified Specialist in South Carolina Employment and Labor Law for more than 25 years, Burnette's legal practice includes workplace disputes and sex discrimination, civil rights, wage payment claims, academic law and employee rights.
Next week's program will be at the Ernest F. Hollings Special Collections Library, 1322 Green Street. It will include a wine and cheese reception. Registration remains open for the free event.