December 9th, 2021
---
Cohoon receives Civic Star Award from Richland County Bar Association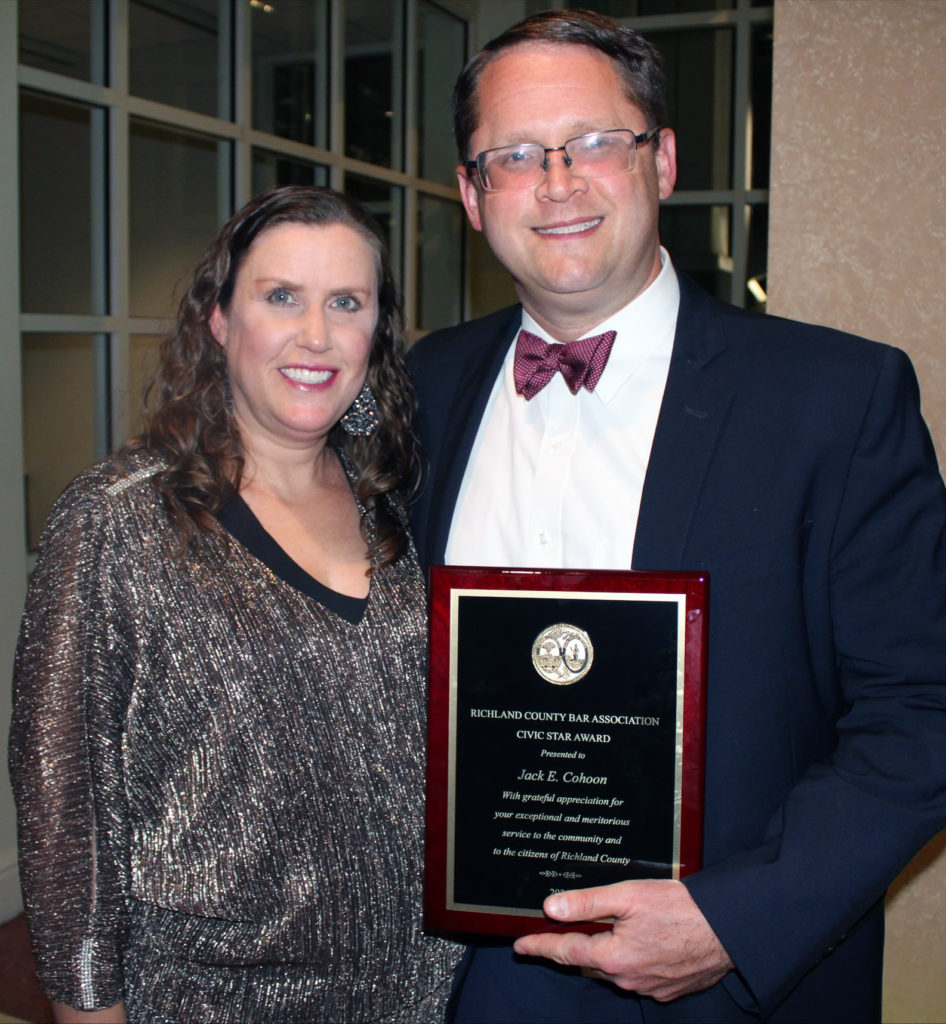 Congratulations to Jack Cohoon, the latest Burnette Shutt & McDaniel attorney to receive the Richland County Bar Association's Civic Star Award.
The annual award recognizes exceptional and meritorious community service outside the legal profession. Cohoon was honored Dec. 8 during the Bar's annual meeting and holiday party.
Kathleen McDaniel, one of the Columbia, SC firm's co-founders, received the award in 2012. Nekki Shutt, another of the founding partners, was honored in 2018. Other notable recipients include Columbia Mayor Steve Benjamin.
Cohoon long has been active with the Boy Scouts of America. He's a member of Legal Eagles of the Indian Waters Council, a group of Eagle Scouts working in law enforcement and in the legal profession and who continue to give back to scouting. Cohoon led the effort to conduct three large "Law Day for Scouts" events that brought together lawyers, judges, and law enforcement professionals, many of whom are Eagle Scouts, to help hundreds of scouts earn their Law merit badge. In 2018, Cohoon received the Cubmaster of the Year award from the Cinaquapin District of the Indian Waters Council in recognition of his volunteer work with the youngest Boy Scouts.
Cohoon also was a part of the Burnette Shutt & McDaniel team that earn Pro Bono Leader honors from the American Bar Association for its outstanding participation in the ABA's Free Legal Answers program. He also contributed his time this fall to the Congaree Classic Pro Bono Challenge that saw members of the Richland and Lexington County Bars complete to answer the most questions through the South Carolina Free Legal Answers portal.
Additionally, Cohoon presents Continuing Legal Education seminars and webinars that let him share his legal knowledge with other attorneys and with the community at large. Many of the programs are in conjunction with the South Carolina Bar Employment and Labor Law Section, as well as SC Appleseed and SC Legal Services. When he worked in the Columbia office of South Carolina Legal Services, he developed legal clinic models now used throughout the state.
Cahoon's practice at Burnette Shutt & McDaniel focuses on employment law, administrative law, civil rights, and appeals. A highly experienced litigator, he's successfully challenged government agencies and policies to move law forward.