February 10th, 2020
---
Getting a criminal record expunged in South Carolina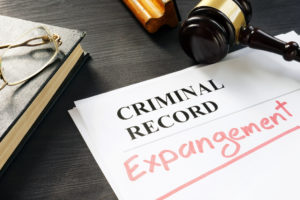 By Maya Weeks
Second-Year Law Student
When I apply for a job in South Carolina, do I have to tell my potential employer that I have a criminal arrest or conviction if those records were expunged?
The short answer is  "no."  A change in South Carolina law now makes it clear that effective December 28, 2018, only "criminal justice agencies" can use expunged information against an employee.  Many other employers are now prohibited from using expunged information against employees:
SECTION    7.    Article 9, Chapter 22, Title 17 of the 1976 Code is amended by adding:
Expungement, employer immunity
Section 17-22-960.    Any employer that employs a worker who has had an expungement shall not, at any time, be subject to any administrative or legal claim or cause of action related to the worker's expunged offense. Except for criminal justice agencies, employers shall not use expunged information adversely against an employee. No information related to an expungement shall be used or introduced as evidence in any administrative or legal proceeding involving negligent hiring, negligent retention, or similar claims."
Likewise, if an employee has done Pre-Trial Intervention (PTI) and had the records expunged, then the employee cannot be found guilty of perjury for failing to disclose the arrest.  S.C. Code Ann. § 17-22-150.
This is all good news for employees. Prior to December 2018, if you told your employer or potential employer something less than the full truth about your criminal history, you were always at risk for termination for cause.
Why you should have a criminal record expunged
 Having a criminal history can affect your ability to obtain employment, housing, public benefits, become a foster parent and or visit relatives in jail, not to mention the often-public stigma of such a history.
Even if an offense occurred years ago, the information is still available to employers or anyone who can run a background check. In some cases, criminal history is available online.  Since 65 million people in the United States have criminal records, this is a problem for about 30 percent of the population.
Though expunging the record prevents most employers from accessing the information, that's not the case in every situation. In South Carolina, many occupational licenses can be refused based upon a criminal conviction.
For example, check out the application to become a licensed engineer in South Carolina through SC Labor Licensing and Regulation.  That application seemingly requires an applicant to disclose a guilty plea even if it has been expunged.
Criminal background checks are also required to be licensed as an auctioneer, forester, embalmer, funeral director, burglar alarm contractor, fire alarm contractor, engineer, surveyor, physician's assistant, or respiratory care practitioner.
A criminal background check also is required to be licensed as a home manufacturer, retail dealer, single and multi-lot salesperson, contractor, installer, repairer or apprentice under the Manufactured Housing Board,or a real estate broker, salesperson, or property manager under the Real Estate Commission.
A criminal background check also will be required if "yes" is answered to a question involving arrest or conviction on an application to be a licensed residential builder, residential specialty contractor, residential electrical contractor, residential HVAC contractor, residential plumbing contractor, or home inspector.
So, while having a record expunged still can help with private employers, that's not the case with all government agencies or professional licenses.
South Carolina now allows more leeway for expungement 
More states are recognizing the detrimental effects of a criminal history and have passed legislation to help people with criminal histories move forward with their lives.
South Carolina's new expungement law is aimed at creating more opportunities for people with criminal histories.  Previously in South Carolina, only a person's first criminal offense could be expunged.  Now multiple offenses can be eligible as long as each offense is the first of its type.
Not all charges can be expunged, and some offenses require a precise time period of no other offenses before someone can be eligible. There are 11 different categories of expungement and each has different rules to become eligible.
Do note that in South Carolina, how long it takes to get criminal records expunged depends upon whether you go the PTI route versus conditional discharge.  According to the revised expungement statute, a person would have to wait three years from completion of the conditional discharge to apply to the circuit court for an order expunging the records of arrest and conviction.  (S.C. Code Ann. § 22-5-930 and 44-53-450 (Am. 2018).)
How a lawyer can help with expungement
Obtaining an expungement can be a confusing process. If you have questions about expunging your criminal record, an attorney can help you determine which offenses are eligible and decipher which rules apply to those offenses.
An attorney can also help complete the paperwork so that you can start getting your record cleared as soon as possible.
Many people want their criminal records expunged in order to have better employment opportunities.  Burnette, Shutt & McDaniel can help you sort it out. Attorney Jack Cohoon has helped many clients expunge their criminal records so they can move forward with their lives. He, and the other Burnette Shutt & McDaniel employment law attorneys, also can help clear up errors in criminal records, background checks and more.
For more information, contact the firm at info@burnetteshutt.law or 803.850.0912.
Maya Weeks is a law clerk at Burnette Shutt & McDaniel in Columbia, SC. She's a second-year law student at the University of South Carolina School of Law who is simultaneously pursuing a master's degree in criminal justice.