April 28th, 2022
---
Disabilities group files lawsuit regarding inhumane conditions at Alvin S. Glenn Detention Center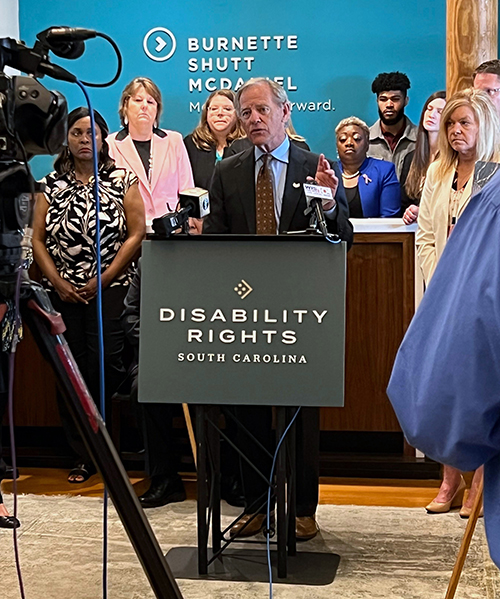 COLUMBIA, SC – A group that advocates for the rights of people with disabilities in South Carolina filed a federal lawsuit Thursday against Richland County regarding brutal, inhumane and unconstitutional conditions at the overcrowded and understaffed county jail.
The lawsuit is filed by Disability Rights South Carolina in the U.S. District Court for South Carolina. Burnette Shutt & McDaniel attorneys Stuart Andrews, Nekki Shutt and Sarah J.M. Cox are representing Disability Rights S.C. in the case.
Disability Rights South Carolina v. Richland County states that at the Alvin S. Glenn Detention Center many detainees with disabilities, who have not been convicted of any crime, are:
Locked into small, cold, moldy, filthy, infested, unsafe, and unsanitary cells for up to 24 hours a day.
Prevented from ever going outside.
Denied adequate mental health care and support.
Placed in solitary confinement for extended periods of time.
Locked into showers too small to allow them to sit down for up to 48 hours at a time.
Shackled to a "restraint chair" for days at a time with handcuffs and zip-ties, without adequate monitoring or any breaks, even to go to the bathroom.
Left naked in cells without monitoring when they are supposedly on suicide watch.
Forcing anyone, especially people with mental or physical disabilities, to live in these medieval conditions is unconscionable, inexcusable, and clearly unconstitutional, says the complaint.
Complaints from detainees, their attorneys and loved ones have been disregarded by the detention center for years, says the lawsuit, adding that these practices violate accepted detention center standards, as well as the Fourth Amendment's mandate that anyone in pretrial custody be protected from harm and not subjected to punishment, among other constitutional and statutory provisions.
Rather than receiving treatment for their conditions, detainees with mental health problems are routinely punished with solitary confinement, says the legal action, resulting in a worsening of their conditions.
The complaint asks the court to assume jurisdiction, declare that the practices of the detention center deny rights under the U.S. and state constitutions, and:
Issue preliminary and permanent injunctions restraining and prohibiting Defendant" from detaining people with disabilities until it stops the abusive practices.
Prevent the detention of detainees from other jurisdictions until the jail is safely staffed.
Require the center to submit to the court a plan for addressing the problems.
Appoint a monitor to oversee the process of reform.
Attorney Andrews previously played a major role in a case against the South Carolina Department of Corrections. The class-action lawsuit resulted in a ruling in favor of incarcerated men and women with serious mental illness. The suit led to the appropriation of millions of dollars by the S.C. Legislature to increase the department's mental health professionals. The case spanned nearly 20 years and drew national attention, particularly to the cruelty of the solitary confinement of inmates with mental illness.