December 7th, 2018
---
Shutt receives Civic Star Award from Richland County Bar Association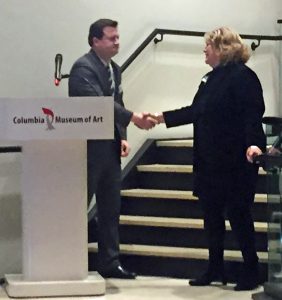 Nekki Shutt, a founding partner of Burnette Shutt & McDaniel, has received the Richland County Bar Association's Civic Star Award.
The annual honor recognizes exceptional and meritorious community service outside the legal profession.
Kathleen McDaniel, another of the Columbia, SC firm's co-founders, received the award in 2012. Other notable recipients include D. Cravens Ravenel, who mentored Shutt, and South Carolina Rep. James Smith, her classmate at the University of South Carolina School of Law. Columbia Mayor Steve Benjamin also is a Civic Star recipient.
Shutt has been deeply involved in the community over the years. In 2002, she helped found The SC Equality Coalition, the state's LGBTQ civil rights organization. She served as its chair for two year and as a board member for 15 years. She also was a co-founder of Progress South in 2015, and she continues to serve on that board as well.
Shutt has volunteered her time with other organizations, including the AIDS Benefit Foundation and the Cultural Council of Richland and Lexington Counties.
Over the past 23 years, she has served as a pro bono attorney in LGBTQ issues through the SC Equality Litigation Task Force. She and firm co-founder M. Malissa Burnette led the legal team that pave the way for marriage equality in South Carolina.
Shutt and the firm are enthusiastic supporters of the arts, sponsoring film series at The Nickelodeon and exhibits and lectures at the Columbia Museum of Art.
A South Carolina employment law specialist
A certified specialist in South Carolina Employment Law, Shutt is a skilled and experienced litigator. She represents clients in a wide array of employment law and discrimination issues. A big part of her practice is employee benefits cases under ERISA.  She fights for those who believe they've been wrongly denied disability or other benefits under this federal law. Shutt also helps clients in cases involving COBRA and South Carolina health insurance continuation laws.