August 27th, 2021
---
City of Women puts Burnette in her place – on the map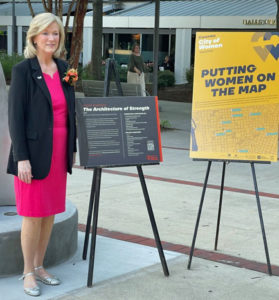 Burnette Shutt & McDaniel co-founder is among nine women added to Columbia's City of Women map.
The project, a joint venture of Historic Columbia and the Women's Rights and Empowerment Network, began in 2019 as an effort to put women in their (rightful) place – on the map. The newest class was unveiled as part of She Did Day, an annual event commemorating ratification of the 19th Amendment.
"(Malissa) is indeed an inspirational woman whose contributions deserve to be documented, shared and celebrated," City of Women executive director Robin Waites said.
A civil rights attorney who's litigated landmark cases that have moved law forward, Burnette has spent a lifetime taking up causes that have changed lives. She fought for women's rights to attend state-supported military schools before the U.S. Supreme Court. She and firm co-founder Nekki Shutt helped pave the way for marriage equality in South Carolina.
Currently, Burnette, firm co-founder Kathleen McDaniel and attorney Grant Burnette LeFever are part of the legal team challenging South Carolina's abortion ban.
This year's nine City of Women honorees were unveiled at a reception that Burnette Shutt & McDaniel co-sponsored.
The interactive map, found online at https://www.columbiacityofwomen.com/#/map, gives viewers a seldom-seen perspective on exploring the city
It includes a stop at the site of the service station where voting rights advocate Donella Brown Wilson stood in line with hundreds of black voters after the NAACP challenged the state's all-white Democratic primary. It highlights the University of South Carolina administration building where Henri Dobbins Monteith and two other black women registered for classes in 1963, becoming the first African American students to enroll since Reconstruction.
It notes the former law office of Eslinger & Knowles, an all-female firm co-founded by civil rights attorney Vickie Eslinger. It marks Craven Hall, where suffragist Ida Salley Reamer founded the League of Women Voters of Columbia and Richland County.
Burnette's marker will highlight the Blanding Street location of the Columbia YWCA, where the local chapter of the National Organization for Women met with Burnette serving as president during the push for the Equal Rights Amendment.