March 28th, 2018
---
McDaniel receives Leadership in Law Award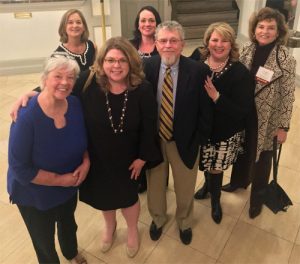 COLUMBIA, SC – South Carolina Lawyers Weekly has honored Burnette Shutt & McDaniel co-founder Kathleen McDaniel with a Leadership in Law Award. The annual honor recognizes attorneys who go above and beyond in serving the profession and the community.
McDaniel has a long history of civic involvement, from creating a recycling program in Charleston to serving in the Peace Corps. She's a past president of the Rotary Club of Vista Night and a former Richland County Planning Commission member. She also volunteers with a Richland County Bar program that provides free legal services to the homeless.
Professionally, McDaniel focuses on environmental law. Her scientific background – she holds master's degree in forestry and a bachelor's in aquaculture, fisheries and wildlife – gives her a unique perspective on many issues.
She also assists clients with permitting and planning and zoning issues. Eminent domain and condemnations are key parts of her practice as well, as is administrative law and litigation.
South Carolina Super Lawyers Rising Star and in Legal Elite of the Midlands both have honored her work in environmental law. In 2012, the University of South Carolina School of Law Alumni Association selected her for the Compleat Lawyer Award Silver Award. It's the organization's highest honor.
A March 23 reception at The Francis Marion recognized 30 honorees in this year's class.
About Leadership in Law
South Carolina Lawyers Weekly created the Leadership in Law 10 years ago. The Leadership in Law selection process begins with a nomination from a fellow attorney. An independent panel of legal professionals then evaluates and scores each nominee. Criteria include legal organizations and positions held and community organizations and positions held. The panel also looks at achievements in the practice and in leadership.
McDaniel is the second attorney at Burnette Shutt & McDaniel to receive a Leadership in Law Award. South Carolina Lawyers Weekly honored Nekki Shutt in 2016.