March 8th, 2018
---
WREN honors Burnette for work in social justice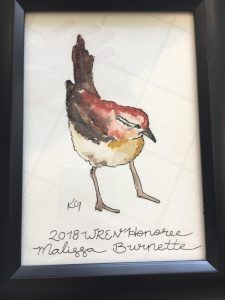 COLUMBIA, SC – Burnette Shutt & McDaniel co-founder Malissa Burnette was among 10 South Carolina trailblazers honored today at the annual International Women's Day luncheon.
During the event, organized by the Women's Rights and Empowerment Network, Burnette was recognized for her success in taking the battle for social justice to the court system.
Her record includes landmark cases that gave opportunities to women and girls in South Carolina and across the nation. The first opened the doors of state-supported military schools to women. That case went to the U.S. Supreme Court. The second made it possible for girls to play contact sports at South Carolina high schools.
Additionally, she and firm co-founder Nekki Shutt were lead counsel in the case that paved the way for same-sex couples to wed in South Carolina.
Burnette fights for justice for individuals, too. Through the years she's represented clients facing discrimination, harassment, civil rights violations and more. A veteran employment law attorney, she often tackles workplace issues and wrongs.
"Malissa truly represents what we mean when we say that our firm wants to move the law forward," Shutt said. "She has dedicated her career to doing exactly that."
Other honorees during the luncheon included women who have advocated for children and families and created programs for troubled youth. The organizer of the South Carolina Women's March and manager of an activist network also was honored. So, too, were leaders in medicine, business and government.
"These trailblazers have embodied WREN's mission through their personal, professional and philanthropic achievements," the organization said.
About Malissa Burnette
A South Carolina Supreme Court certified specialist in labor and employment law, Burnette represents clients in a wide variety of complex cases. She's a skilled litigator who fights for equal opportunity, equal pay and more. She works with academic issues such as tenure, too. Her practice also includes family law and alternative dispute resolution.