May 7th, 2019
---
For Burnette Shutt & McDaniel, Trustus Theatre is a special place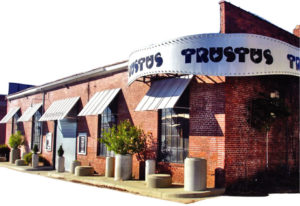 For many attorneys at Burnette Shutt & McDaniel, the ties to Trustus Theater in Columbia are long and strong.
Malissa Burnette and her future husband went on one of their first dates at Trustus Theatre and have supported the professional troupe with annual donations for more than 30 years. It's their way of helping the company continue to bring the best new and original plays to Columbia.
For Nekki Shutt, Trustus long has been a safe haven in Columbia for LGBTQ people. "(Founders) Jim and Kay Thigpen's vision of raising the consciousness of people on social issues helped foster the growth of our community," she wrote in a chapter of "Southern Perspectives on the Queer Movement."
For Janet Rhodes, serving Trustus Board of Directors allows her to combine her legal skills with a life-long passion for the arts.
Grant Burnette LeFever has enjoyed plays at Trustus since she was a child and continues to support the theater's mission of enriching lives and deepening the artistic offerings available in the community.
That's one reason the firm is asking clients and friends to join them for a special event May 16. That evening, invited guests will have a chance to see a special preview of "Sweat" before the Pulitzer Prize winning play's official opening night at Trustus. The play runs May 17 through June 1 on the Thigpen Main Stage.
It's both a way for the firm to say "thank you" and an opportunity to support an organization that has been a meaningful part of so many of the attorneys' lives.
Many of the themes of "Sweat" also resonate with the firm and reflect issues the attorneys see in their practices. Based on interviews playwright Lynn Nottage conducted with the real-life residents of Reading, Pa. "Sweat" explores issues such as economic tensions, management-labor relationships and the roles of gender and race in the workplace as the industrial base deteriorates in a once-thriving middle-class town.
Two of the play's main characters are powerful women, one African-American and one white. When both apply for the same management position with a steel company, jealousy, mistrust and feelings of betrayal facture their lifelong friendship.
"Sweat" has been described as "scorching," "compassionate," "devastating and, at times, funny. It's a little uncomfortable at times as it rips the bandage off many of the current issues: extreme poverty in a country blessed with immense wealth, misplaced anger toward people of color with aspirations, feelings of despair as a community is devastated. Though the play is set in the Rust Belt, the issues it explores resonate in the South as well.